Headlines
Christmas in Colour
25 July 2019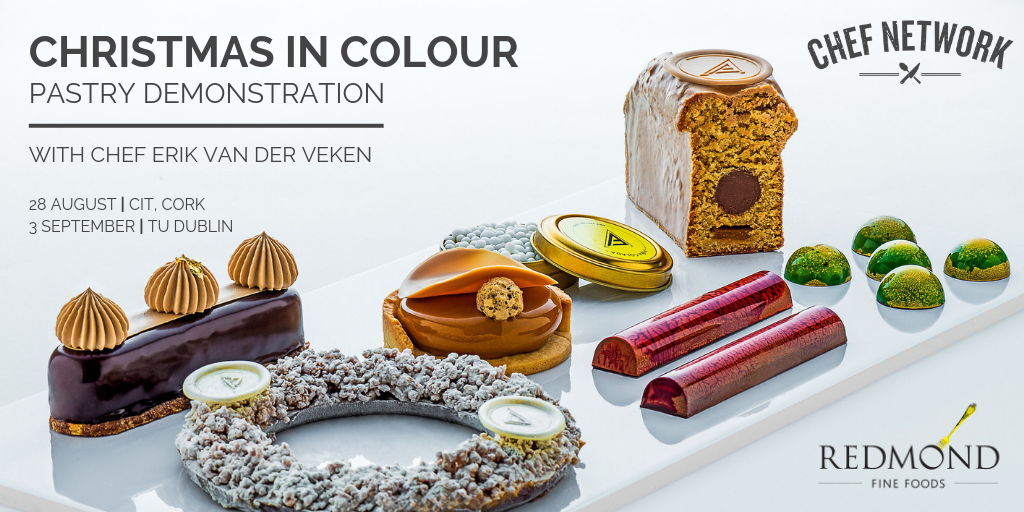 Join Redmond Fine Foods Technical Advisor and Cacao Barry Brand Ambassador, Chef Erik Van der Veken and our new partner Chef Network for exciting demos driven by the latest innovations in 'Colour' for patisserie. Be inspired to create your Christmas menu, develop your skills, knowledge and see the latest techniques with two classes in C.I.T. Cork on the 28th of August and TU Dublin on the 3rd of September.
Erik will be showing participants to make:-
Roll biscuit Apricot / Tonka
Buche de Noel Noisette
Sablé Cherry / Cardamom
Petit Gateaux X-mas red fruits
Plated dessert Bailey's & Chocolate (chocolate, caramel & baileys)
Snack Bar "Caramel"
There will also be a number of pre-made desserts for tastings.

What you will learn:
A colourful chocolate or pastry display is bound to attract attention, but do you know where your colour is originates?
In these demos, Erik will explain to participants the difference between AZO and non-AZO food colourings as well as the different legislation associated with each. Participants will also be shown alternatives for food colourings and how best to incorporate colours in their desserts in order to comply with the new legislation.
Register for the
Cork demo
:
Register for the
Dublin demo: