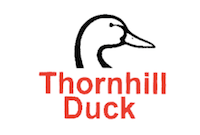 A recent Euro-Toques Farm category award winner, Thornhill Duck is a culinary must for meat enthusiasts - crispy golden-brown skin, deep pink flesh, rich and robust umami flavour.

Kenneth Moffitt and his family have been rearing ducks and geese at Thornhill Farm in Blacklion, Co. Cavan for over 25 years, a labour of love in their process and product.

Rearing ducks is a difficult and skilful undertaking. Unlike chicken, which will layer on meat with ease, the quality of duck meat is subject to a far greater number of variables, not least weather extremes, which play a huge part on the final product. Working yearly on the breed cycles direct with the hatcheries, their Aylesbury-Pekin cross-bred duck is unique. Day old ducklings are brought in and reared in heated, straw bed pens over an 8-week period.

When the birds are ready to be processed, Thornhill ducks are dry plucked and wax finished. This labour-intensive process leaves the skin soft and velvety and, when cooking, the moisture is retained in the flesh while the skin itself becomes deliciously crispy.

Redmond Fine Foods is the proud distribution partner for Thornhill Duck in Ireland.