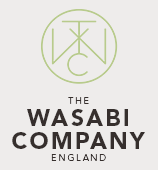 With farms in Hampshire and Dorset, The Wasabi Company is the only grower of fresh wasabi in the UK. The plants are grown in disused Victorian watercress beds to mimic their native environment of streams on Japanese mountainside.
With nuances unique to its local environment, the quality is outstanding. As well as growing wasabi, they also make a range of own-label products which incorporate the wasabi and other typical Japanese ingredients such as yuzu.
Increasingly, The Wasabi Company is recognised in Europe as the premium supplier for high-quality, Japanese ingredients. Over the last decade and inspired by requests from leading chefs in the UK and Europe, they have procured a Japanese product range of over 350 ingredients, all with a focus on quality, provenance, and authenticity. Their range includes fresh, unpasteurised soy sauce, handmade, double-fermented miso, aged vinegars, kombu and dashi stock, forest-grown shiitake mushrooms, yuzu citrus, and many more.
The range perfectly meets the culinary trend for Japanese-influenced cuisine, fermented foods, and rare, artisanal crafted products. Whether you are looking for inspiration to create a new dish or the finishing touch to an existing one, The Wasabi Company product range is an inspired resource.