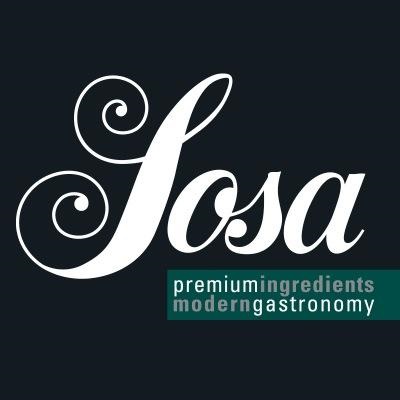 Sosa started out in 1976 as a family business producing handcrafted, traditional Catalan wafers and Christmas sweets. At the turn of this century, a new approach to gastronomy began, led by Ferran Adrià of famed restaurant El Bulli, nestled on the northeast coast of Spain. Adrià presented a fresh perspective on the world of modern cuisine, and one which required new and thoughtful gastronomic solutions. Guided by culinary professionals and industry peers, Sosa Ingredients (Sosa) began producing texturising agents and unique and novel, solution-led ingredients.
Today, Sosa has two production sites, is present in more than 80 countries, and their range comprises of more than 10 unique product categories.
The company is defined by the pillars of limitless creativity, knowledge exchange, and modern gastronomy. As they say at Sosa, "we imagine tomorrow's gastronomy".
Sosa's mission is to inspire and build a global community around innovation and creativity. With a defined emphasis on natural ingredients, their entire catalogue of products brilliantly illustrates this point, and where each ingredients possible application is only limited by imagination.
From gelling, whipping and airing agents to various technical sugars; from pork airbag – a classic Catalan inspiration – to potato air bag; and from Cantonese-style candied nuts to flours and pure nut pastes and pralines, the list goes on. From freeze dried fruit, whole and powders, and wet proof crispies to natural colourings; from preserved fruit and peel to concentrated pastes and flavours, Sosa is the cornucopia of culinary possibilities.
For Sosa, the notion of provenance is a key fundamental when sourcing ingredients. In 2016 they acquired an almond selection and processing plant in Lleida at the heart of the almond plantations of Catalonia. In doing so, they gained complete control of this essential, pastry-making ingredient's value chain.
Aside from other progressive measures such as generating 50% of their energy requirements through onsite, renewable energy sources, the ideals of sustainability are at the nucleus of responsible gastronomy for Sosa. For example, the company puts a huge focus on the benefits of plant-based food and helping customers make the transition away from meat-derived recipes. This is a very technical challenge and, to this end, Sosa recently launched a beautiful pastry brochure of plant-based indispensables. A product list curated to assist the pastry chef in offering an alternative to the classic dairy recipe without ever renouncing the maximum flavour and the perfect texture.
Redmond Fine Foods are working with Sosa since 2009. Back then, it was the chef's secret range of kitchen ingredients, to help push the boundaries of taste and texture. Today, Sosa Ingredients are a gastronomic necessity.