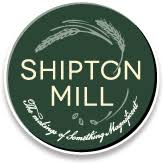 John Lister started Shipton Mill in 1979, working from day one with like-minded farmers who promote biodiversity and who value and seek to look after the soil. The team sourced millstones made from hard-wearing French Burr stones to grind the flour, and carefully restored roller mills from the 1920's which are still in use to this day for some of the more refined, white flours.
John and his friends restored the mill from a derelict ruin into the working mill one can see today. A mill was first recorded on the site in the Domesday book of 1086 – the business and equipment has changed over the years, but the sense of place and continuity is at the heart of what they do.
Provenance is a key Shipton Mill value. They believe that yield and speed are not the correct way to measure the success of a crop. Instead, diversity and natural resilience, along with allowing wildlife to thrive and the soil to regenerate, should be the priority. Once the grains have been harvested, the Shipton millers put them through rigorous testing processes when they reach the mill, to understand their baking properties fully.
This provides bakers with consistently excellent and reliable results. Now, more bakers and chefs are interested in experimenting with a wide variety of grains and those grown using organic and regenerative methods. Shipton Mill have always championed these grains as they believe it is important to encourage farmers to keep growing them to help retain biodiversity and heritage.
Shipton Mill has been guided from day one by the mission to leave the earth in a better place than when inherited. Putting the planet first, from the farmers who they work with, to 100% renewable power, to plastic-free packaging, are all examples of steps they take to try and protect the earth. They work with like-minded farmers who grow nourishing food, understanding their organic farms as an ecosystem, and who embrace biodiversity, and champion growing without pesticides.
A key project for Shipton Mill is the reforesting of Torosay Hills on the Isle of Mull: they have committed to plant 750,000 native, broadleaf trees as part of the regeneration of a Celtic rainforest that once stood upon the hills, grown from seedbanks on the island. The forest regeneration, if successful, will contribute to carbon sequestration, more biodiversity, and healthier soils.
Shipton Mill flours are for all cooks, chefs, and bakers of any ability, united by their passion for good food and with a common goal to achieve the best possible results.