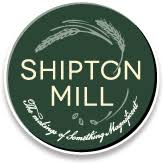 Set in a beautiful Cotswold valley near Tetbury, the mill at Shipton Moyne Wood has been producing flour for over 1000 years. Today it produces a wide variety of Speciality Flours, using both traditional grain and traditional methods.
John Lister first discovered the Mill back in 1981, at the far end of a winding Gloucestershire lane, it was a shadow of its former self(dating back to the 10th Century). His first task was to restore the machinery to clean the corn and drive the millstones.The work of this machinery is slow but sure, ideal for keeping the roughmillstones at the correct speed to stone-grind the grain.
Today, the stoneground flours that now bear the historic name of Shipton Mill are ground with traditional French Burr millstones, just as they would have been in medieval times. The Mill, its river and millpond are home to a thriving and diverse ecosystem. Now that the millwheel is restored and the sluice gates can close, they are working on generating their own electricity from the millwheel.
Shipton Mill provide us with a range of flours (T45, T55 & T65) for both breads and pastry. We stock the following flours:-
White

Wholemeal

Rye

Spelt

Wheat free

Stoneground

Plain

Gluten free

Heritage