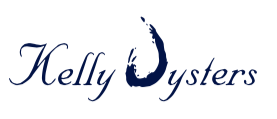 Based in Co. Galway, Kelly Oysters is a family business started by Michael Kelly almost 60 years ago selling Native Oysters. Now run by his sons Michael and Diarmuid along with their wives, they combine modern technology and traditional methods to skilfully harvest by hand oysters often described by top chefs as "the best flavoured in the world".
Located in a small beautiful inlet of Galway Bay, pristine seas and clean fresh waters create the ideal conditions for some of the best flavoured oysters and shellfish in the world. The Wild Atlantic Ocean and fresh water from surrounding rivers add to the shellfish unique taste.
Gigas Oyster (Crassostrea Gigas) Available all year round

Also known as the Pacific Oyster, these plump oysters are
available all year round. A growing process that can take between 24 to 36 months before the oysters are harvested when the required quality characteristics have been obtained. The Oysters are hand packed with the deep shell down to retain their wonderful juice such as the Brandy Bay No.4 (av 55g) exclusive to Redmond Fine Foods.
Native Oyster (Ostrea Edulis) Available September – April

The Native Oyster is the gourmet's favourite, also known as the European Flat Oyster. This is the oyster which is Native to our Irish shores. Native Oysters are considered to be a great luxury due to their wonderful flavour and due to the fact that they are a relatively scarce species.
The Native Oysters are relayed in rich estuarine water where they fatten and develop their unique flavour from the Atlantic flushing in twice daily mixing with the rich fresh waters from the Clarinbridge and Kilcolgan rivers. The oysters themselves filter up to 11 litres of this pristine water every hour over the four to five years it takes to grow to edible maturity.
Kelly Mussels (Mytulis edulis)
The Blue mussel (Mytulis edulis), a species native to Irish waters, is one of the main species cultivated by the Irish aquaculture Industry. It thrives in the cold temperature waters of the Irish coast. Bottom culture of mussels involves the dredging of wild mussel spat and transporting it to richer shallower waters, normally sandy beds, and they are harvested 9-18 months later. Mussels being filter feeders, rely on natural food present in the water column. Taste the Difference: Kelly's wild mussels are equally renowned for their natural and strong flavour, with a texture and feel that make customers come back for more.