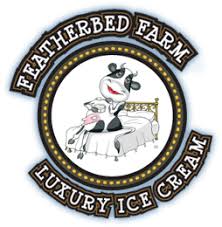 Feathered Farm based in Olygate, Co. Wexford where the Cooper brothers combine farming and culinary skills to create a range of silky smooth ice creams in delicious flavours. They combined Simon's extensive experience as a chef and Pauls farming background and used their skills to create an array of luxury artisan ice-creams.
The ice-creams are handmade on the farm using the finest quality ingredients and where possible all of the inclusions are also made by hand. They are passionate about promoting fruit based ice cream without the artificial flavours or colours.
There is a variety of ice-creams available from the traditional flavours of vanilla, chocolate, strawberry , summer fruits, pistachio to the exceptional flavours of Baileys & caramel, roasted banana, peanut praline, basil, bubblegum and salted caramel.
We also partner with Featherbed Farms to create bespoke flavours for our clients.