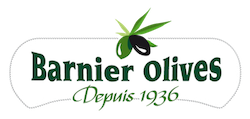 Barnier Olives is a French family business which dates back to 1936 and focuses on the production of marinated olives as well as other products such as tapenade, pesto and sundried tomatoes. Barnier carefully hand-select their olives, making sure they have an authentic flavour, a bright colour and a firm, meaty texture.
Barnier green 'Lucques' olives are a French variety exclusively grown in the Languedoc region in Southern France. They are large and fleshy and have a wonderful nutty flavour. To satisfy the most discerning palates, the range includes a wide variety of herb-infused, marinated olives together with a selection of seasonal famous olives from Southern France, "Lucques" "Niçoises" & "Picholines" varieties.
Barnier olive cocktail assortment contains marinated green olives, pink olives, black olives, lupine beans and sweet peppers. Serve as a bar snack or as part of an antipasti platter.